Banks are cyclical stocks that perform well when the economy is strong and less well when the economy is in recession. These days, the global macroeconomic environment is complex for banks.
Interest rates are up
Banks make a significant portion of their revenue on the interest gained on loans and from no interest on demand deposits, so usually, the higher the interest rates, the more interest income a bank generates.
Impact of a recession
While the net interest income trend is positive, the other side is a recession which might impact banks' activity and profitability due to low credit activity and higher doubtful debts rate.
Many investors ask themselves which of the two trends will impact banks' performance more.
Aurora analyzes the banking sector and 369 bank stocks in 40 markets.
Bank Stocks – Analysis for 13.1.23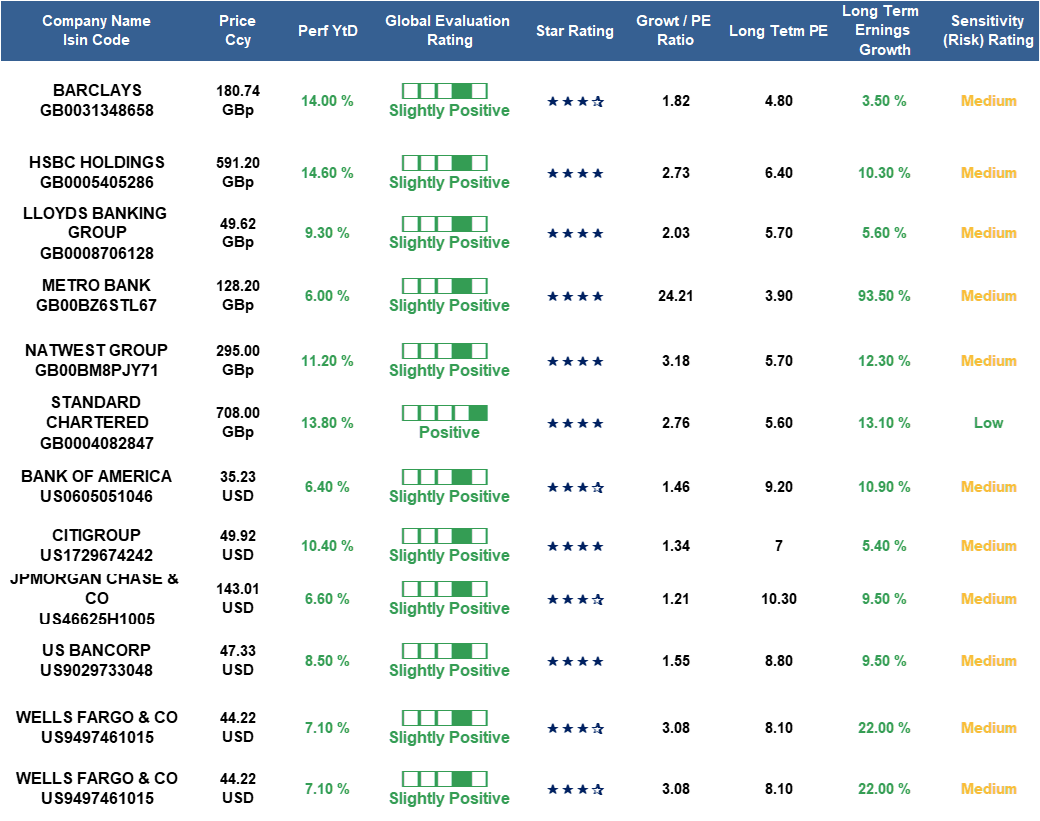 What we offer
Intuitive, user-friendly interface that saves you time.
Analysis and ratings for 40 Stock markets, 100 Sectors, 6,000 Stocks, 15,000 Funds, and 1,200 ETFs.
On-Line portfolio diagnostic and alerts to monitor and control your portfolio.
All-In-One subscription for all markets and products.
Twice-Weekly updates of our ratings and analysis so you can stay informed.
Independent, transparent, unbiased research with no hidden motives, commissions, or costs.
Analysis and ratings, Powered by theScreener AG Switzerland, trusted by leading financial institutions and asset managers for over 20 years.
Disclaimer
The system provides financial information and data to help you identify investment ideas. However, we do not advise you or guide you about this or what products to purchase or sell – these decisions are yours only. SDIS and the system are not subject to regulation, and SDIS does not hold a license for investment advisory, investment marketing, or investment portfolio management under any law. The content provided on the system is independent and not based or tailored to your circumstances, To your needs, or your purposes, and should not be relied on as an estimate of profitability or the suitability of an investment in a particular stock for any purpose. Past performance is not a guarantee of present or future performance. Investments may lose their full value.